I was really excited about Malta. There was lots that I didn't know about it and there was lots I wanted to learn. But I've learnt that while Malta may not have invented disorganisation, they are pretty close to perfecting it. I wouldn't be surprised if I had some Maltese blood running through me.
Not knowing what I do now, we decided to plan out what we were doing for the week. It was relatively simple, there is lots to see and do. Day 0 didn't count. We got in quite late, took a cab to our apartment, and then crashed. The cab driver, Neville, who also happened to own our apartment, was a nice guy. Gave us a bit of info for our stay and chatted to Zeki and I for the 15-20 minute drive.
Day one
Day one was easy. It consisted of picking up Wayne from the airport and swimming. We found a nice "beach" around the corner from us. There were also some Roman baths at the same place, but they could only be used in low tide, as the water level was too high (and a bit choppy that day) to use. So the kids swum in the shallow rock pool, and we ventured out into the sea a couple of times. Off the rocks was a 5m drop, great for diving into and snorkling.
Day two
There were two hop-on hop-off tourist buses around the main island. A south route, and a north route. Today, we took the south route. There were lots of places to stop, but we decided on three. The Hypogeum – a neolithic subterranean structure dating back to 4000BC; Ghar Dalam – a prehistoric cave; and the Blue Grotto – Sea caverns that you have to vist by boat (and maybe somewhere to swim).
First stop, and we jump off the bus in the middle of what could easily be mistaken for the Maltese version of Paddington. Shops and houses everywhere. No signs or anything, so we pulled out our trusty Google Map (I don't care if Google is taking over the world, I love Google), and we are only a block away.
Woo! Here we are, and it doesn't look that impressive, but given it is subterranean, there are probably some steps down. No problem, we've been in training for this…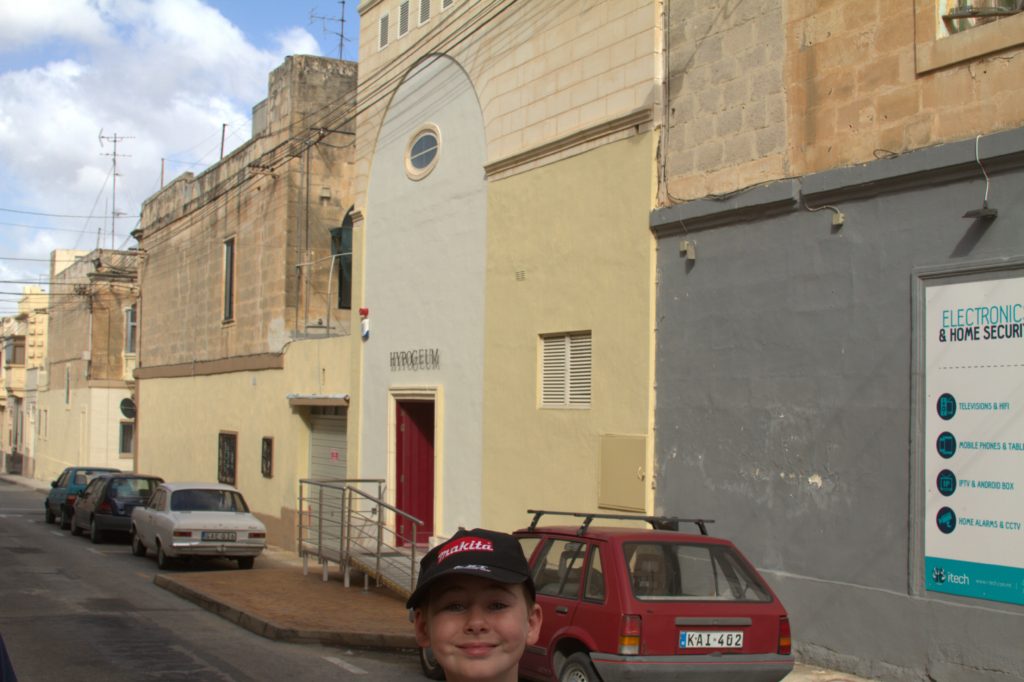 In we go… And out we come. So it turns out that they are booked out till the middle of November. The Hypogeum only accepts 10 visitors per hour, so bookings are essential. A little disappointing, but that's okay. We have other prehistoric things to see. So we make our way back to the bus stop and jump on the next one (they come every 45 minutes on the sourth tour), which is about 30 minutes away.
The bus has some headphones that we can plug in and learn with, but the kids are more interested in more noisy activities. Fortunately, the second stop wasn't too much further. Ghar Dalam means 'The cave of darkness', so I was getting excited. We buy our tickets, and the small museum set up before the cave shows us that there were hippos, elephants and deer that have been excavated from the cave. There are heaps of bones. Interesting, but I was more interested in the people that lived there 7000 years ago.
A quick stroll through the cave, and I couldn't help but feel a little cheated. The cave is 150m deep, but we were only allowed in the first 50m. And the bones were all removed. It was just a dug out cave with catwalks. I was hoping for some bones (or at least some replica bones) in place showing what the archeologists would have found.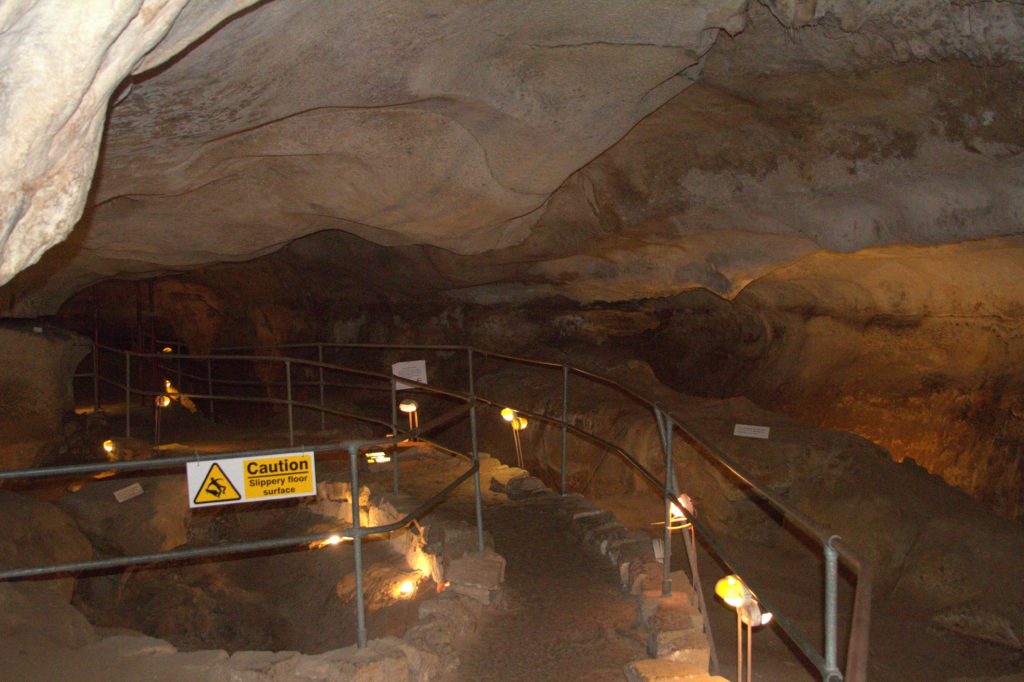 By this time the kids are getting a little bored an impatient, so hopefully there is swimming at the next stop. The Blue Grotto is on the southern side of the island and is supposed to be quite beautiful. However, we had some rough seas, and the boats weren't in the water that day, so as close as we got was the little boat harbour that didn't have any boats in it. There were a couple of people swimming, but it didn't look like the safest place to swim, so we missed out on this stop too.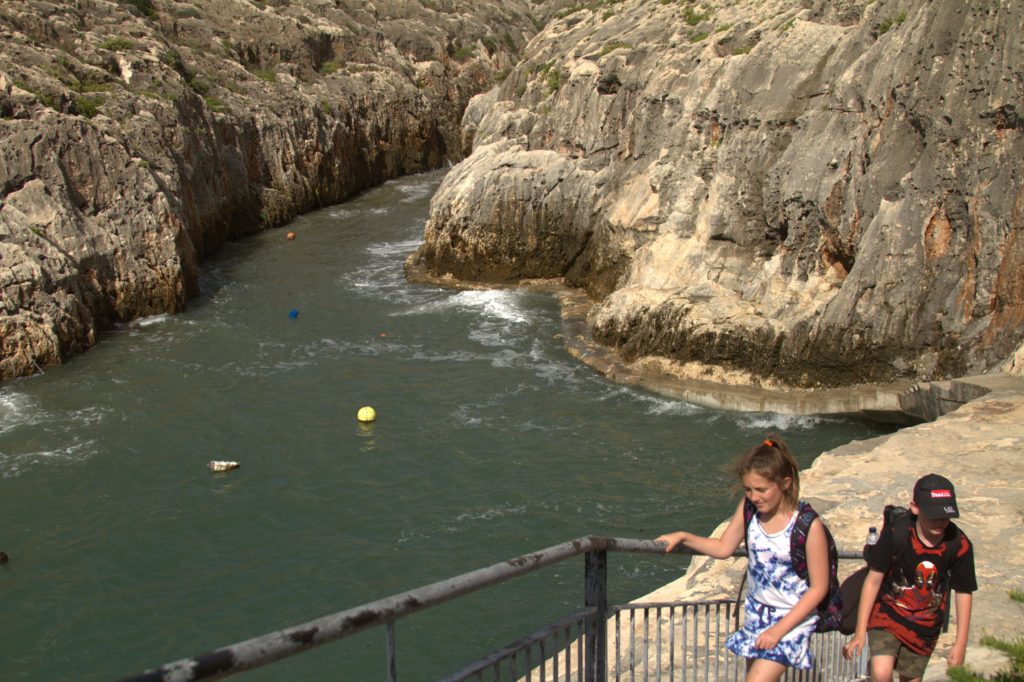 We came back via a small part of Valletta which had some nice views. And then had a small amount of time for the kids to swim before we sorted dinner out.
Not the most successful day.
Day 3
The south route wasn't great, so we were hoping the north route would be better. Again, we had three stops planned. Mdina, the old capital, Rabat for the catacombs and the aviation museum.
Mdina was great. We managed to get there the only day of the year they close the roads for a car race. We took a horse and cart ride around the city, and stop to get some pictures of the views at about the same time the cars took off. They weren't that close, but the sound carried. It was strange being in such an old looking place, with the sound of racecars in our ears.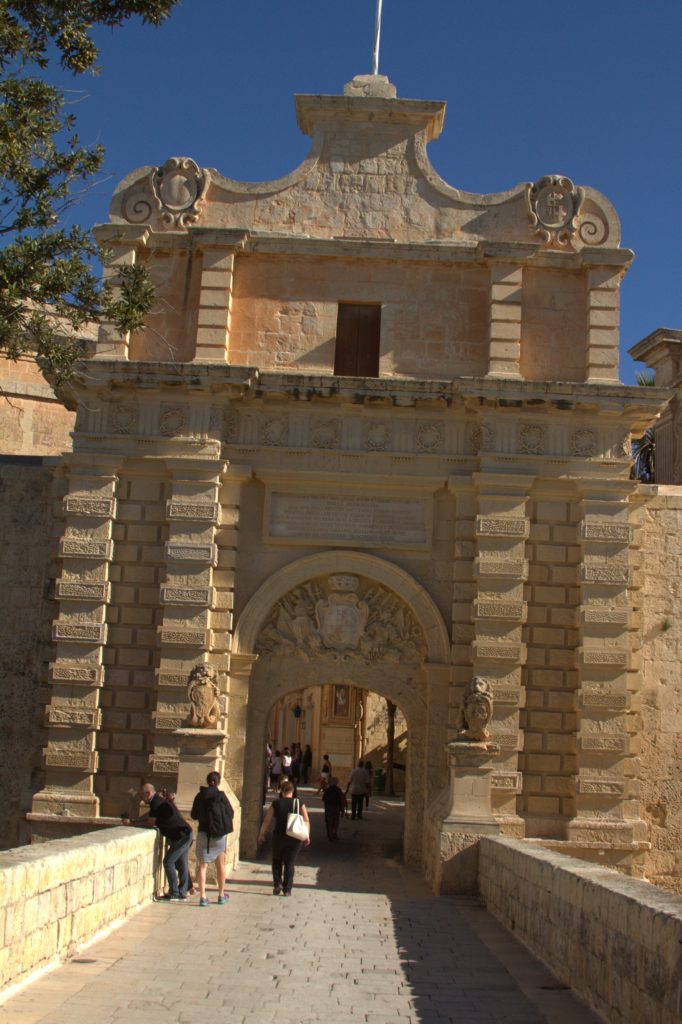 I didn't quite work out where Littlefinger's place was, but we did find a dungeon that was converted to a torture museum showing all of the old style torture devices and how they were used. It gave me a new perspective on parenting, especially after seeing the masks of shame.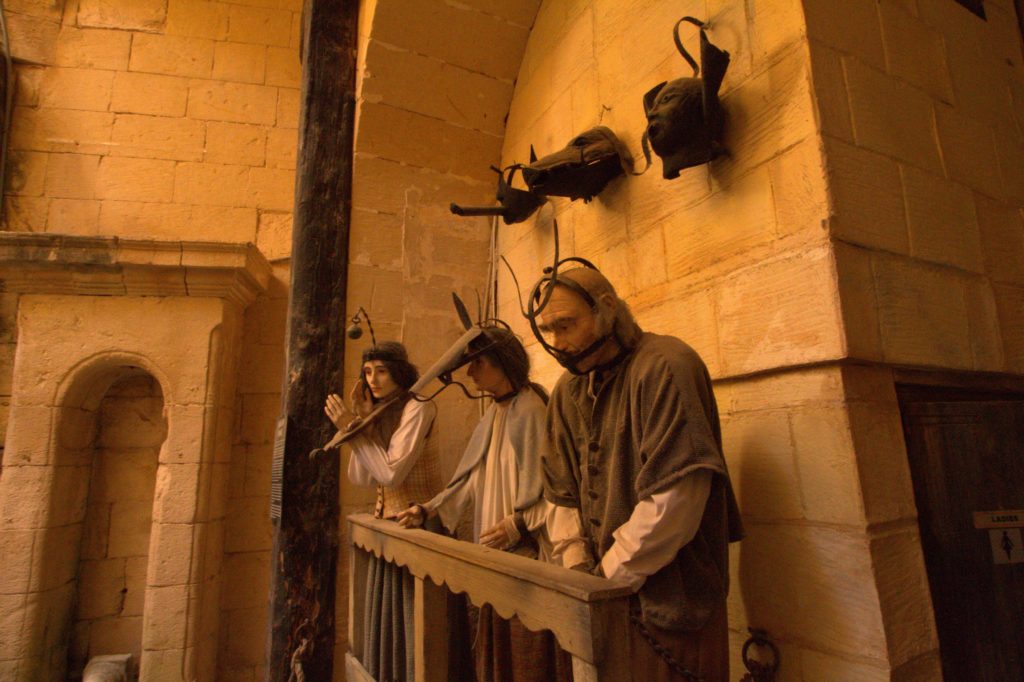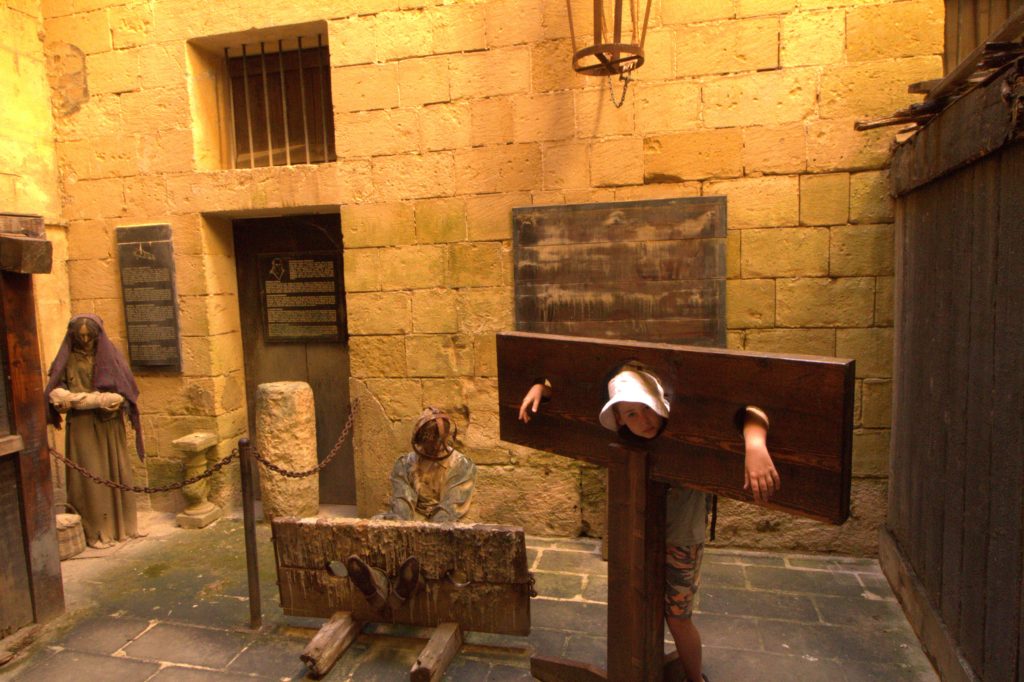 The next stop was Rabat, where we wandered through some catacombs. I was hoping for something similar to the catacombs in Paris, but I don't think there is anything quite like it. The catacombs in Rabat seemed to have many areas excavated , but no skeletons in place. It made it a little harder for the kids to imagine what they would have found. They did enjoy navigating the largest one, which was quite mazelike.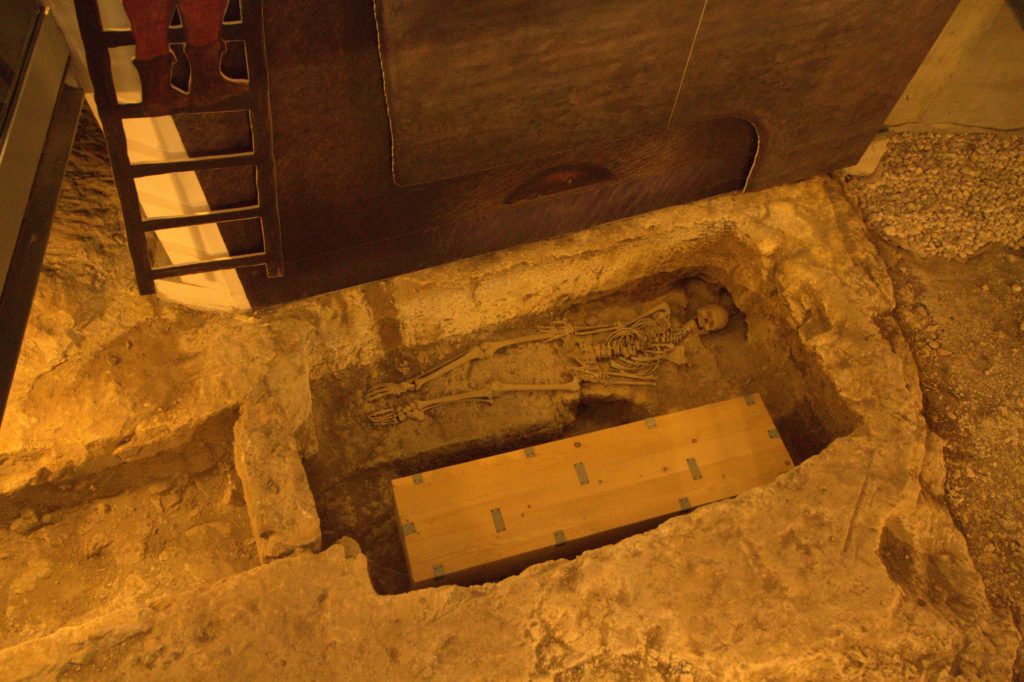 Wayne and I stopped by the aviation museum next, while Bel and the kids went on to the beach. I was surprised at the aircraft that were on display. Most of the aircraft have been built and restored by the engineer that owns it. I was even more surprised when I found out that some of the aircraft were in flying condition as well. It was good to see some of the old planes in person. There aren't many spitfires around these days.
I also found some more parenting ideas at the aviation museum.
The final site for the day was the sandy beach at Golden Bay. I wasn't planning on swimming, but after a long day riding buses and walking around, I couldn't say no. It was quite a nice bay, and I couldn't imagine what it would be like in the height of summer. There were already too many people taking up too much space.
Day 4
I spent the day with Zeki, and we went for a trip to the aquarium. It was only very small, but they had put some effort into the displays. They had quite a few different fish, and Zeki and I found one display that looked like the Finding Nemo display. It had most of the characters in it. I loved watching the octopus. They way they move around is so intriguing. But we were most excited about watching the pirhana feeding. We had a good day, and it was a shame that I chose to feed Zeki to the shark. He will be missed.
Day 5
This was the day I was waiting for. A day at the Blue Lagoon. The pictures looked amazing, but I am conscious that not every place looks like its pictures.
Wow!
When we arrived on the boat, we could see that it looked unreal. The kids and I had bought a jet boat ride, which we did before we could go swimming. The jet boat was fun, and I was a little disappointed that where we went on it was mostly in a straight line. Taking the two corners that we had to was the best part of the ride. We checked out a couple of caves, then headed back… Time for some swimming.
I thought Golden Bay was packed, but there were just as many people at the Blue Lagoon, with far less space for people to sit. I'm pretty sure in the height of summer, the Blue Lagoon would be a place to avoid, unless you enjoyed rubbing up againstevery person you walked past.
But how good does it look? This is what the Mediterranean is supposed to look like.
A great way to say goodbye to Malta. I'm not convinced I will come back, I'm not sure there would be too much more to see. I wouldn't mind properly visiting the Hypogeum, but not sure it is worth going back just for that. I wouldn't avoid it though.