Rome was a lot different to what I remember… Last time I was here, I remember a lot of gypsies in the street begging, or trying to somehow scam you out of your money. This time round there were very few in comparison, and the only kids begging on the street were ours.
"Can we get gelato?"
"Can we get gelato?"
"Can we get gelato?"
The EU really needs to do something about all the begging.
Sightseeing in Rome is easy. Most of the time is spent waiting in lines, so it isn't very difficult. It just requires patience.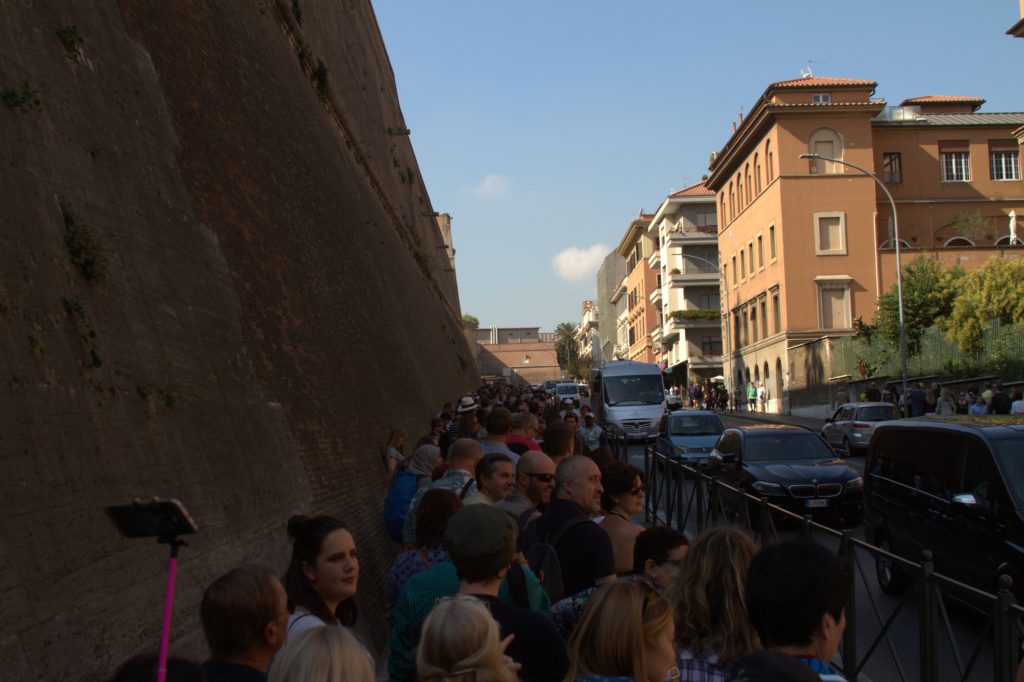 Day 1 was pretty good. We had early tickets to the Colosseum, we just had to pick them up. Queues had already formed at 8am, and the ticket office didn't open till 8:30. Fortunately, there were 5 windows, and for whatever reason, everyone queued at the first four windows. Using my initiative, I started my own queue at ticket office 5, and I was first in line. Woo!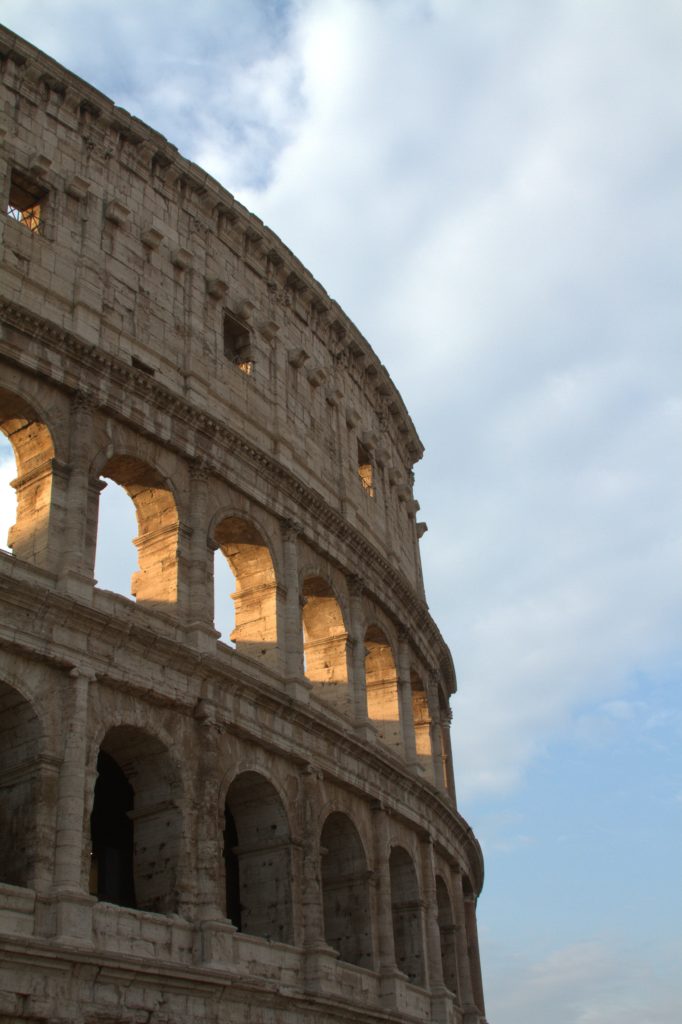 We had audio guides, and the kids were exposed to some educational material. Hopefully they retain some of the knowledge, but I fear that there may not have been enough gelato involved. Luke did get excited when he saw the graffiti with some names in some of the old brick work.
On the way back from the Colosseum, we swung by the Roman Forum. It's quite amazing how well things are preserved, so many years after they are built. It makes me wonder what the old romans would think if I was to have a conversation about my 60 year old house needing a rebuild.
Although everything was really old, there were a few modern looking statues that we found.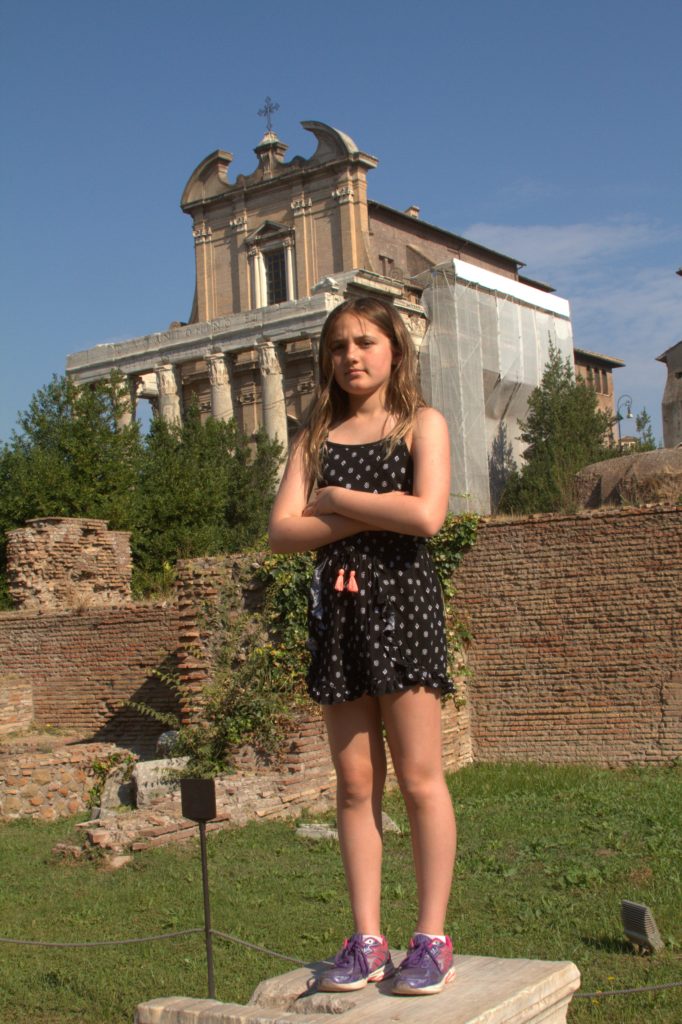 We watched a documentary called The Gladiator that night, so the kids could get a feel for what it was like in gladiator days. It turns out that Commodus and his old man Marcus Aurelius were real, and Commodus did like his arena battles. He even fought himself against people that had been pre-wounded so that he didn't lose. He didn't really die in the Colosseum though… Apparently he was strangled in his bath.
Day two consisted of more waiting… About two hours we waited to get into the Vatican to high five the Pope. He didn't even come say g'day, even after our wait. So we walked though his digs and checked out his artwork. I explained to Zeki that some of the things in there were priceless and that the catholic church was one of the richest organisations in the world. He was amazed, but not sure he quite understood that even Scrooge McDuck would get tired swimming from one end to the other of the Pope's safe.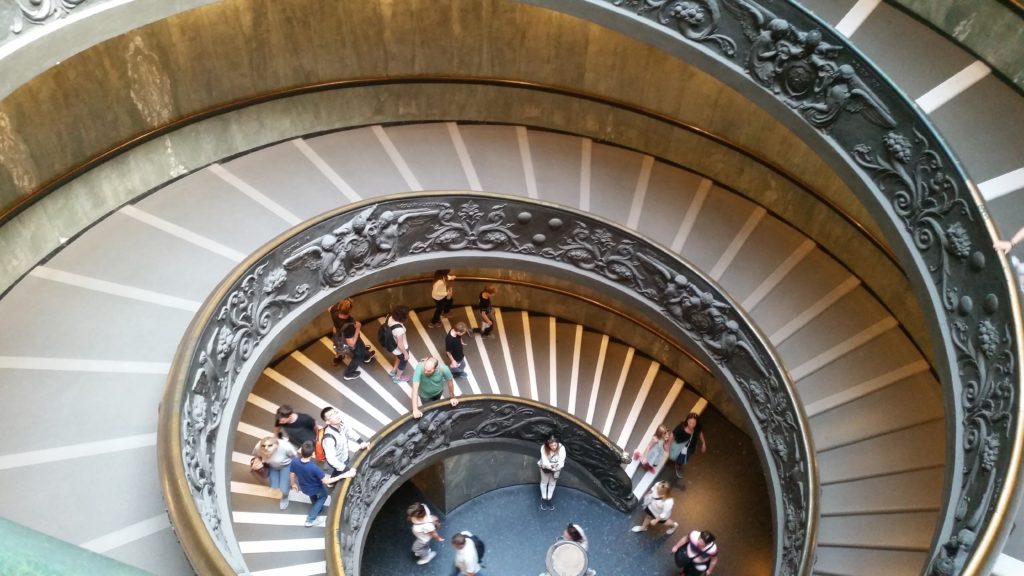 While we were hanging out outside having a rest from all the waiting, I noticed some names at the top of the Vatican Museum. I'm sure, given he nun-chucked his graffiti all over the Sistine Chapel, Michaelangelo would have his name somewhere as well, which made me think the real secrets the catholic church are hiding are the Teenage Mutant Ninja Turtles.
That night, we hung out at the Trevi Fountain. Right next to the fountain was a DIY Magnum shop. The kids had been as patient as we could expect at the Vatican, so we gave them a crack at making a magnum.
They looked really good, so I got one too. Bel restrained herself, which is noble, but she missed out. They were so good!
We then threw some coins into the fountain, and the kids got whistled at by the fountain police.
That was really all we could fit in, and although we had a fair bit of time before we left, rather than drag our luggage around and find places to leave it, we caught up on some homework that needed doing while hanging out at the airport.