Florence has been my favourite place so far. Not so much because of where it is, but because of what we did.
Getting around is quite easy. We were staying very central, only around the corner from Cathedral of Santa Maria del Fiore. Holy cow, what a big church! And the view of it has been spoilt by the baptistry of St John right in front of it. Surely there was a better place for it. No thought about framing photos when building.
I had a quick scout around where we were staying, supermarket across the road, Fiorentina store across the road, but most importantly, I found another place that sells canollis. Zeki and I tried it out, and interestingly enough, the Florence canollis have more of a buscuit base rather than a pastry. Zeki loved it, I was more of a fan of the Ventian ones, but I wouldn't pass up another one.
Day two was where the fun started… First, a trip to see David. I think I've seen David before, but I don't remember him being so tall. The kids were all about close ups… Anyone would think they have never seen naked people before. So immature… But who am I to say no to culture? So here it is!
They had a couple of other things at the museum. Paintings, statues, musical instruments… The renaissance period was all about willies and boobs, and a bit about jesus. I don't remember seeing anything with all three together though.
We went for a walk afterwards, and went past the Bibloteca Natzionale Centrale di Firenze. I think it was the place where bibliographies were invented. They must get royalties every time someone writes a bibliography, cause the place was huge!
A little further down the river and we found little bridge called Ponte Vecchio. There were lots of people crossing the bridge, surely it would have been easier to cross at one of the other bridges.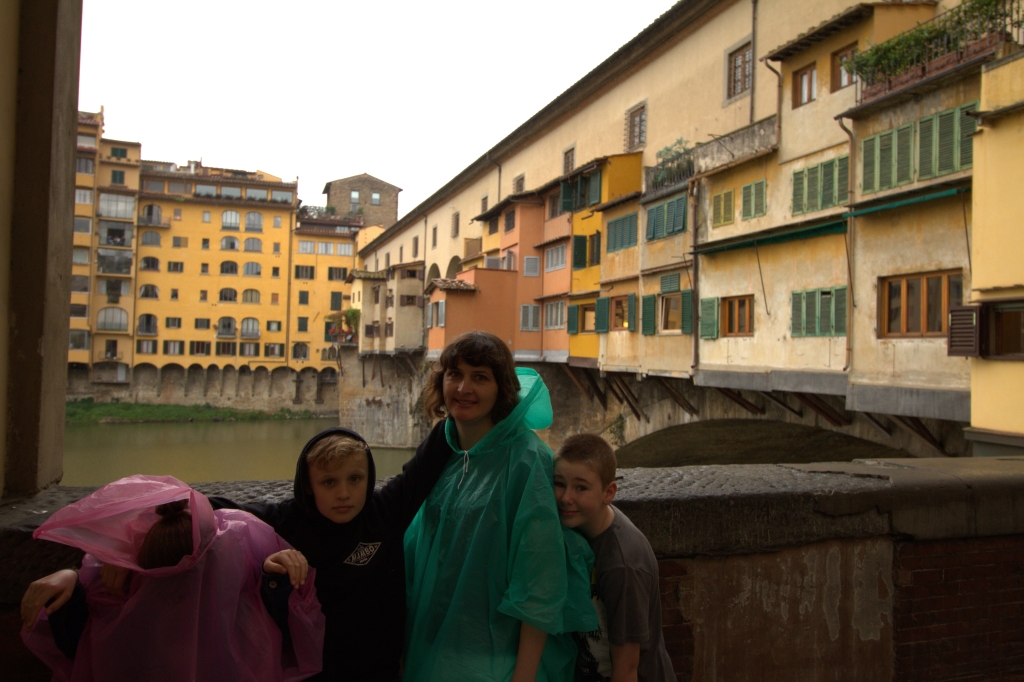 Funnily enough, our apartment was on the same street, so we just had to walk back in a straight line. But there were a couple of things that took us off course. A big palace, Palazzo Vecchio. Must have been owned by the guy that built the bridge. And Piazza della Repubblica.
That night we headed a little out of town to catch the Fiorentina soccer game. Woo! I was really excited about this. We got there a few minutes after kick off, and while I was asking someone where our seats were, Fiorentina went up 1-0. D'oh! The rest of the game was entertaining, not so much for the game. There were a lot of people falling over for no reason, trying to milk penalties and free kicks, but the whistle was only being blown for Atalanta. Maybe they trained harder in falling over.
The crowd was awesome. Chants the whole way through. I love the atmosphere it provides. They sung for the whole game, except for half time. The highlight of the game was when Atalanta was awarded a penalty and the Fiorentina keeper saved it. Oh. My. God! The crowd went off, including this guy that leapt over some seats to give Atalanta the finger. Italian passion, right before our eyes.
Despite the falling over, Atalanta were the better team, and it seemed like it was only a matter of time before they scored. And in the last couple of seconds, they did. The crowd went crazy, there were two explosions that we heard, and while my Italian isn't very good, I'm sure some of what we heard were swear words. 1 – 1, which at the start of the game probably would have been an acceptable result, but disappointing given when it was scored. Fiorentina's number 30 probably would have been spewing he missed this opportunity.
The next day was going to be just as exciting. Pisa in the morning, and then cooking lessons in the evening. Pisa was an hour away by train, and I think we ended up spending about 40 minutes there. We took the usual photos, holding up the tower, and then sat down for lunch on the nice grass. It was actually really nice sitting with Bel, having a sandwich watching the kids play. THey chose to eat away from us, probably because they realised we are way to cool for them.
Back to Florence, and cooking time. We've all been looking forward to this, and I was surprised at how well the cooking lessons had been organised. There were about 25-30 people all together, which was more than I expected, and they went through a whole bunch of theory about cooking pizza and gelato. A little unexpected, and almost unbareable for the kids, but I found it really interesting. The inner nerd in me liked hearing why things are done the way they are. But the best part was making gelato with liquid nitrogen. I'll have to get my hands on some when we get back.
We had a bit of fun making the food, but the best part was eating it. We all got to make our own pizza, and the gelato we all made (one between two) was shared around so we could all taste. Yum!
The next morning was travel time again… Florence to Positano is the longest train/bus leg we have. Not looking forward to it…